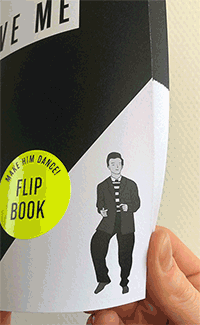 Dear Rick Astley Please Forgive Me
A short memoir of an awkward young girl sending hate mail to Rick Astley through apology letters as an adult. It was the 80's; she was a pre-teen troll, pre-internet. 
The book includes five open letters to Rick Astley, over fifty drawings and a corner flip book. In addition to the charming narrative, the book tackles themes of collecting , ownership and authenticity through it's graphic exploration of Rick Astley collectibles from the 80s and their the secondary market value.
This book works together as a conceptual art project with the NFT collection
Dear RICK ASTLEY
where each drawing from the book is a single NFT. The images were drawn digitally using actual collectibles for sale on the web as reference. By listing these drawings on a digital collectibles market–where an NFT retains it's grace & beauty for all time without having to depend on the owner's camera skills or lighting techniques to best represent and resell it–the Dear RICK collection's traits include how the original listing was styled and photographed as well as how Rick appears in the image.
Published by Shot Put 2019
Edition of 200
17 x 24 cm (6.7 x 9.45 inches), 68 pages
ISBN 978-0-9836243-2-5
(Sorry out of print.)
edition of 100, published by Shot Put, 2011
A reflection on book collection, ownership and reproduction- referencing both Sol Lewitt's "Autobiography" and Jonathan Monk's "Cover Version". A documentation of all the books Andersen owns, arranged in order of page counts and represented by respective page numbers. Page Count also includes the conversation between Jonathan Monk and Seth Siegelaub "On Book Making & Book Collecting" first printed in Cover Version with an additional Postscript- a conversation between Monk and Andersen.
17 x 21 cm (6.7 x 8.3 inches), 144 pages
ISBN 978-0-9836243-0-1
(Sorry, out of print.)
edition of 100, published by Shot Put, 2011
Of all of the 122,730 words that were used to write the May-2011 issues of Art Forum, Art Review and Frieze Magazines, 95% of them were used in more than just one article. 5,842 of these words about art are considered unique, only to be found within one article in all of the three magazines. All contents were digitalized and analyzed in a databank for word repetition between articles. Every word which appeared in more than one article was then blacked out in all three magazines.
All cats are grey in the dark. In language the art is black.
21 x 29 cm (8.3 x 11.4 inches), 272 pages
ISBN 978-0-9836243-1-8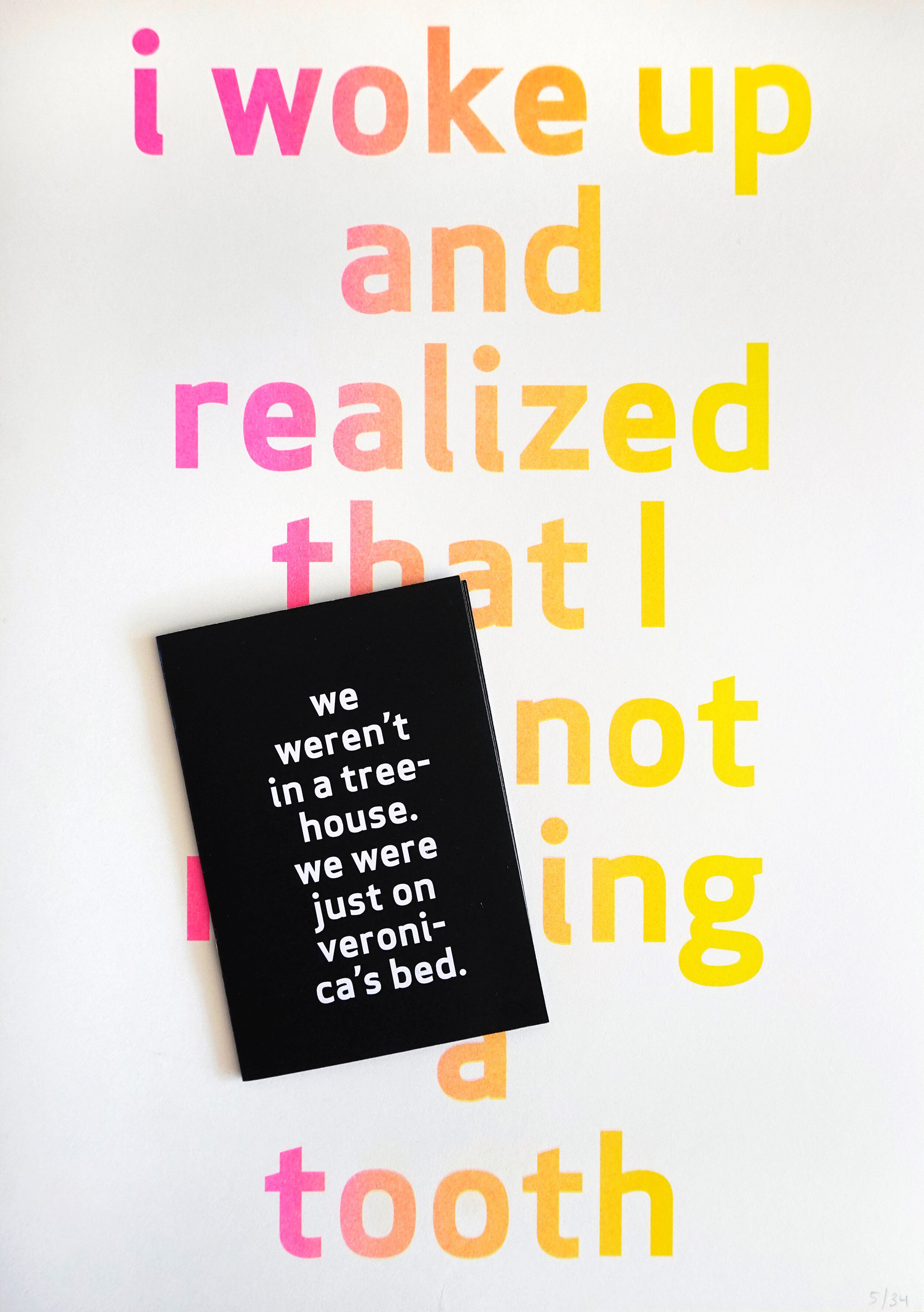 Tree House Riso Print, Missing Tooth Riso Print & Zine.
This print is a collaboration with designer Emily Morishita.
Each is a numbered edition of 34.
2-color Risograph print on 300g Munken white paper. 
With 8 page A5 Zine. 
A3 size; 29.7 x 42 cm ( 11.7 x 16.5 inches).